There's no shortage of bikes in Brooklyn and no shortage of bike shops. But only a few specialize in fixed gear bikes. So if you have been searching the internet for a reliable, friendly fixie bike shop in Brooklyn, you're in the right place. 
The best fixie bike shops in Brooklyn are:
Haven Cycles-located in Bushwick
Silk Road Cycles-located in Greenpoint
The Bike Truck-located in Cobble Hill
King Kog-located in East Williamsburg
Dixon's Bicycle Shop-Located in Park Slope
But there's more to it than that, so in this post, I'll show you five of the best fixie bike shops in Brooklyn, so you can get some wheels and meet some cool-ass people.
Thumbnail for A Blog Post Top 5 Best Fixed Gear Bike Shops in Brooklyn NYC (2022)
Before we get into the list of the best bike shops in Brooklyn, let's review some buying tips.
Why should you buy from a local bike shop?
Not everyone is comfortable buying a bike online. Some people need to touch a product before they purchase it. If you're the kind of person who wouldn't dream of buying a bike before taking it for a test drive, there will always be a local bike shop ready to help you.
Local mom-and-pop shops are the way to go when you want to buy a fixie or track bike. The employees at these shops are very knowledgeable (sometimes a little too knowledgeable) and can help you find the perfect fixie for you. This is an excellent place for a novice to go for their first bike purchase.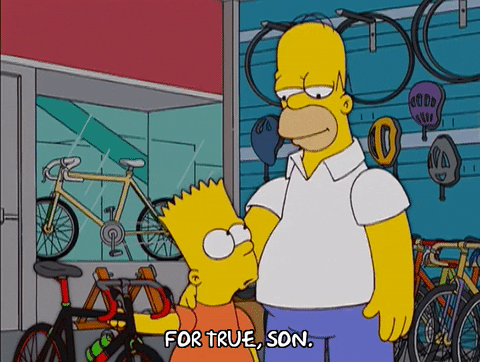 Some of the best fixie bike shops in Brooklyn will even let you take the bikes for a spin. And even if you can't go all out and cruise the block, you can at least get in a couple of pedal strokes indoors.
The bike selection will be limited, but do not let that discourage you. Many of these shops offer more products online. Check out their websites and order the bike you want. They will have it shipped from their distributor or the bike's manufacturer, and you can pick it up fully assembled a few days later. You will want to give them your email address so they can contact you when the bike is ready. You only have to pay for the labor of putting the bike together, a reasonable fee considering it is done by a professional. Additionally, buying within your neighborhood supports your local economy. It's a win-win. 
If you want to buy a fixie online, check out our post on the best-fixed gear and single-speed bikes you can buy. And if you are someone who is comfortable buying a bike online, check out some of the fixie, single-speed, and track bikes below.
Advertisements
My favorite fixed-gear bike (right now):
State Bicycle Co. Black Label 6061
My favorite fixed-gear bike (right now):
State Bicycle Co. Black Label 6061
This is my daily ride, my trusty Black Label. It's lightweight and beautifully crafted. Looks like a beast and rides like one too. I upgraded the saddle, but everything else is pretty much as it was out of the box. I highly recommend it.
Don't Buy a Fixed Gear Bike at A Big Box Department Stores 
If you want to buy a fixie, I recommend staying away from department stores like Dick's Sporting Goods, Bass Pro Shops, K-mart, or Walmart. Your options will be dramatically limited. In addition, these big box stores do not employ cycling experts. REI is an exception as their employees know their stuff, but they are more geared towards mountain bike and road biking enthusiasts.
If you don't know any bike shops near you, a quick google search should render many options. Just search for "fixed gear bike shops near me." Don't just settle for the first one you see. Check out a few. You will find that the culture is entirely different from one bike shop to another. Just choose the one where you feel the most welcome.
The Best Fixie Bike Shops in Brooklyn
There's no lack of bike shops in NYC. So here are our picks for the best fixie bike shops in Brooklyn. 
1. King Kog
696 Grand St. Brooklyn, NY, 11211
King Kog is the fixie spot. They have other bikes, but you will quickly see that fixies and track bikes are what King Kog is passionate about. Established in 2005, King Kog is a full-service bike shop specializing in vintage track and road bikes. They also feature new, used bikes and modern frames and offer wheel-building services. They have helmets, locks, tube chains; you name it. It is a one-stop fixie shop.
The owner, Gina Marie Scardino, is responsible for making this little bike shop into one of the best fixie bike shops in Brooklyn. Check out this video where Gina gives a tour of the shop and tells you why king Kog is special. 
I have to admit; I may be slightly biased as I had a friend who worked here for a while, but still! So if you are looking for a place that is all fixie, all the time, this is a place you will want to check out. It's one of the best fixie bike shops in Brooklyn. Click here to check out King Kong website.
2. The Bike Truck
216 Hoyt Street (between Baltic and Butler) Brooklyn, NY 11217
The bike truck is one of the best fixie bike shops in Brooklyn. One of my favorite things about the bike truck is that you can spend hours trying out different bikes. All you need to do is make an appointment, and there's no pressure to buy anything. 
Again, I am slightly biased because one of my friends works there, but hey, they do a bang-up job. Knowledge is an understatement. These guys live and breathe fixed-gear bikes. But, of course, they don't only specialize in fixed gear bikes, but this is a go-to for those looking for a dedicated fixie shop.
They have two locations, the original location in Colby Hill is open every day except Wednesdays, and one in Bushwick that's only open Monday, Friday, Saturday, and Sunday. If you are new to the world of fixed-gear bikes, I recommend checking out the bike truck. And if you need a tune-up or tube changes, Toj and Chris will hook it up.
3. Silk Road Cycles
76 Franklin St, Brooklyn, NY 11222
Silk Road Cycles is a small, unassuming shop that is regarded as a treasure in the neighborhood. Located in the heart of Greenpoint, Brooklyn, Silk Road Cycles offers bikes, accessories, and apparel from top manufacturers like Tokyobike, Brooklyn Bicycle Co, Marin, and Surly. They also have an expansive inventory of accessories from Giro, Ortlieb, Brooks, Blackburn, Carradice, Abus, Road Runner Bags, Knog, Continental, Spurcycle, SimWorks, Fizik, and more. 
Silk Road Cycles is beloved for its lightning-fast repairs and friendly employees who don't try to scam or belittle you like some other shops. In a world of elite know-it-all bike shops, Silk Road Cycles is indeed a rare treasure. 
You can bring along your dog, but unfortunately (and surprisingly), Silk Road is not wheelchair accessible. They are closed during the following holidays: New Year's Day, Easter Sunday, Independence Day, Labor Day, Thanksgiving Day, Christmas, and Christmas eve. Check them out, and you will see why we think this is one of the best fixie bike shops in Brooklyn. Click here to check out Silk Road Cycles' website.
4. Haven Cycles
1546 Dekalb Ave, Brooklyn, NY 11237
Deep in the heart of Bushwick, you will find a little bike shop that goes by the name of haven cycles. Everyone there is friendly and knowledgeable about bikes in the least pretentious way possible. Their goal is to get more people riding bikes in their community. They specialize in custom builds, repairs, and wheel building. In addition, they have vintage bikes and new bikes.
This place is one of the most chill bike shops I have visited. I like that they don't mind you watching them work on your bike. The vibe is everything a bike shop should be. 
If you are visiting NYC, you can rent a bike here too. They offer Tribe Bicycle Co. three-speeds for rent. All rentals include a lock and helmet. Day rentals are due back the same day by 8:30 pm, or you can extend your rental through the next day for just $15. Weekly rentals are due by 8:30 pm, seven days after the rental begins.
You will find more information on their website regarding their servicing pricing. If you are looking for one of the best fixie bike shops in Brooklyn, you have to check them out. Click here to check out Haven Cycles' website. 
5. Dixon's Bicycle Shop
792 Union St Brooklyn, NY 11215
Dixon's Bicycle shop is the OG bike shop in park slope. This Jamaican, family-owned business has been around since 1966! That's pretty impressive for a new york business. 
It's not a fixie-exclusive shop like some others on this list, and while they have some bikes and parts for sale, they are best known for their repairs and servicing. But based on the raving yelp reviews, friendly atmosphere, unpretentious employees, and inexpensive servicing, it deserves a place on this list. This is, without a doubt, one of the best fixie bike shops in Brooklyn.
Unfortunately, they do not have a website. But, they are open every day from 10-7:30 pm (Sundays till 6:00), so consider taking a trip down there and check out this historical bike shop. 
Bonus: Zen Bikes
134 W 24th St, New York, NY 10011
Update: Zen bikes has permanently closed as of 2021.
This is a bonus because Zen Bikes is located in Manhattan, so needless to say, they are not one of the best fixie bike shops in Brooklyn, but they are a great bike shop that deserves to be mentioned. I've been to Zen Bikes many times as it's just a few blocks from my university. The staff is always friendly and approachable; You won't find any cycling elitists here. 
Zen Bikes is technically not a fixed gear shop, meaning they do not specialize in fixed or single-speed bikes, but I had to add them to the list as every time I have been there, there's nothing but good vibes, positive attitudes, and excellent craftsmanship. And they cater to all types of cyclists.
One of the many awesome things about Zen Bikes is that if you purchase a bike from them, they will slap a Zen Bikes sticker on your frame, which gives you access to free tune-ups and maintenance for the entire lifetime of the bike. You can also check their Facebook page for random free maintenance and flat repairs. If you find your bike's handlebars too long, they also have the machinery that can trim those bars if you desire. 
If you live in Manhattan, I suggest buying your bike online from the manufacturer and shipping it to Zen Bikes to put it together for you. You won't regret it. 
I purchased a bike from Zen Bikes about ten years ago (not a fixie). They allowed me to take any bike for a test ride. I remember thinking, well, what if I just run off with it. It was a while ago, so I don't remember if they took my ID or if I left my backpack as collateral. I just remember thinking it was insane to let me test ride this bike with no supervision. Very cool. 
I don't recommend Zen Bikes if you are looking to buy a fixie, but if you're looking for top-notch customer service, check out Zen Bikes, located in the heart of Manhattan, at 134 W 24th St, New York, NY 10011 (24th street between 6th and 7th). Click here to check out Zen Bikes Website.
Frequently Asked Questions (FAQs)
Still have questions? Below are some of the most commonly asked questions about Brooklyn's best fixie bike shops.
Is it better to buy bikes in a local store than online?
It's important to decide what's important to you when buying a bike. If convenience and savings are top priorities, then online shopping might be a better option. However, buying a bike in a local store may be a better choice if you would rather avoid the hassle of shipping and dealing with returns. It all comes down to what's best for you!
What should I consider when buying a bike?
You should consider a few key things when buying a bike, such as the type of terrain you'll be riding on, the kind of bike you're looking for, and your budget. Also, consider if you're using the bike as a racing bike or simply for commuting.
How much does it cost to buy a bike in a local store?
The price of a bike can vary depending on the brand, model, and size. However, on average, the price range will be around $500-$800 to buy a bike from a local store. The main reason for this high price is that local stores have to pay high costs for advertising and promotional materials.
Conclusion
Regardless of the bike shop you choose to visit, you will find all the shops on this list to be knowledgeable, helpful, and friendly. So, if you want to join a thriving community of fixed-gear enthusiasts, you should check out your local bike shops.
This article covered the five best fixed-gear bike shops in Brooklyn. Here are some key takeaways:
Key takeaways 
Get to know the people at your local bike shop
Try to avoid big box stores when shopping for a fixie
The best fixie bike shops in Brooklyn are:
Haven Cycles – located in Bushwick
Silk Road Cycles – located in Greenpoint
The Bike Truck – located in Cobble Hill
King Kog – located in East Williamsburg
Dixon's Bicycle Shop – Located in Park Slope
So, what are your picks for the best fixie bike shops in Brooklyn? Let me know in the comments below (we read and reply to every comment). If you found this article helpful, check out our full blog for more tips and tricks on everything fixie. Thanks for reading, and stay fixed.
Helpful Resources